Board Members
Chairperson : Mike O Donohue.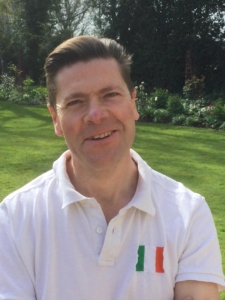 Mike O'Donohue is the chair of Para-Equestrian Ireland.  He brings a range of experience from business, consulting and the voluntary sector.  He is currently Chief Data Officer at Camelot, the operator of the UK's National Lottery.  Prior to Camelot, he worked at British Gas, Tesco and McKinsey & Co.  Originally from Dundalk he now lives in the UK and is married to Grade 5 rider Tamsin Addison.  He has a Ph.D in Psychology & Statistics.  Contact Mike on [email protected]
Secretary: Joanne Logue
Joanne Logue is a secondary school teacher from Waterford and is the secretary for PEI. She is currently teaching in St Mary's college Arklow. Joanne  has produced two horses to advanced medium level. She has also produced a very successful para dressage horse Hadena.
Joanne is focused and diligent, she has won several national titles in dressage, eventing and showjumping. Joanne brings a huge level of experience from her teaching background to PEI and wants to encourage current and potential members to get involved in the organisation.
Treasurer: Michael Kearney
High Performance rep: Dara Kearney
Fundraising & Sponsorship Officer: Karen Reilly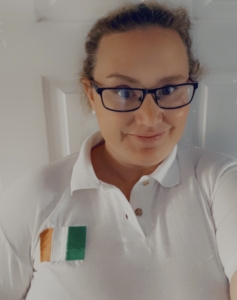 Karen Reilly is the mother of Para rider Katie who is currently the youngest international para dressage rider. Karen also competed for Ireland in Italy in the equine discipline of TREC. Karen also runs their UK base equine yard which has been purposely built for para riders which is also the host yard for the longest running RDA group in cheshire Mid-Cheshire RDA. Karen is very hands on and is always on hand to help riders where possible. With first hand knowledge of the expenses that goes along with Para riders karen is very keen on finding funding to help our para riders both development and international riders reach their potential.
Company Coordinator: Sue Murphy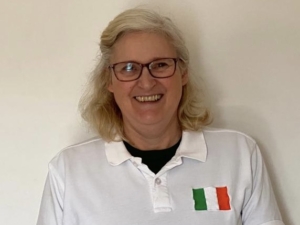 Member of PEI since 2018. And been involved with Para Dressage for over 16 years and at International level for 15 years.
Married to John Murphy and the parent
 of Paralympic Rider for Ireland Michael Murphy.
Before children worked as Floor Manager at Lillywhites Sports Shop in Piccadilly Circus, London
Have worked with horses including Show Jumpers so have a keen interest in the competition side of the horse world.As well as a good understanding of the time, dedication and cost it takes to compete. Enjoying being part of Para Equestrian Ireland Charity and would like to help it grow and be supportive to all the up and coming riders along with the High Performance Riders already out competing.
Rider Rep: Grainne Hallahan
Governance and Safety Officer: Lucinda Blakiston Huston